The Alexandra Hospital for Children with Hip Disease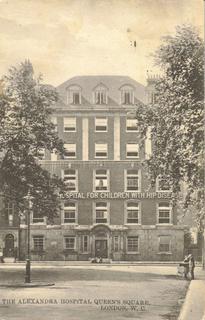 The Alexandra Hospital was opened on 12 March 1867 at 19 Queen Square Bloomsbury. It was founded by a group of women who wanted to help children suffering with hip disease (tubercular arthritis). Two of them were nurses from Great Ormond Street Hospital (Catherine Wood and Miss Perceval) and so had first hand experience of the distress such diseases caused
There was some debate about what the name of the institution should be. From 1867 to 1870 it was known as the House of Relief for Children with Chronic Diseases of the Joints, and from 1870 to 1881 the Hospital for Hip Diseases in Children. The issue was discussed because of some opposition to the concept of specialist hospitals.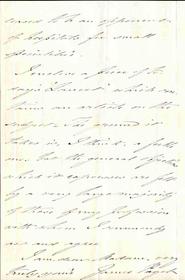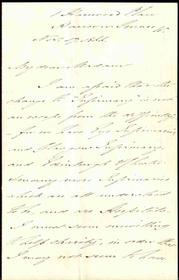 Opponents included such eminent physicians as Sir James Paget - you can see one of the letters he wrote about the subject below. Although he did not want to stand in the way of charity, he was also concerned not to contradict his publicly known opinion that specialist hospitals gave an opportunity for professional wrongdoing, an opinion which was commonly agreed with in the medical press at the time. By 1881 the institution went by the name of the Alexandra Hospital for Children with Hip Disease, named in honour of Princess Alexandra.
The plight of the children suffering with hip disease was often a motivation for people to donate money to the Hospital. Tubercular arthritis causes pain and stiffness, particularly in large joints such as the hip or knee, and can spread to the bones when it develops in childhood. This can cause long-term problems, including recurrences of the disease in adulthood.
The Hospital produced fundraising pamphlets to explain its purpose and to highlight the work it did. These often took the form of little stories about life on the wards, appealing to the sympathies of potential donors, or illustrating the moral point of giving money to the Hospital.
The Hospital also put on imaginative events to raise money, such as dinners, concerts and plays. A great deal of effort went into the organisation of these events in order to make them a success.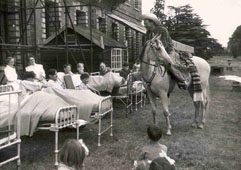 After moving and expanding on several occasions the Alexandra finally settled outside central London, at the Kettlewell Home in Swanley, Kent in 1920, and then in 1940 at Stockwood Park, near Luton in Bedfordshire. These locations afforded the Hospital more space, which made it a much more pleasant environment for the patients. Many of the patients were in the Hospital long-term, and so normal childhood activities had to be provided. The Hospital ran a school for patients, and much went on in the way of extra-curricular activities including plays, parties and visits by organisations such as the Boy Scouts and Girl Guides.
Another move, to Nyn Park in Hertfordshire, was proposed but never happened, and in 1958 the Ministry of Health closed the Alexandra.
This brief history of the hospital and the images (apart from the first showing the façade in Queen Square in the early 20th century) have been generously provided by the St Bartholomew's Archive.