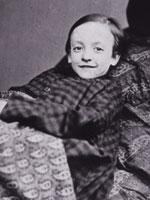 Willie Catlin – patient from February 1870 to July 1874
When Willie Catlin was admitted to The Hospital for Sick Children on 11 February 1870, for the first of five visits, he was seven years old. He spent the next four years shuffling between the Hospital and a variety of convalescent homes. His diagnosis was Morbus Coxae, which is a Latin term meaning, literally, disease of bones. He was probably suffering from a tubercular infection of his bones, like many of the children in the Hospital.
Willie came from a very poor family. In 1861, two years before he was born, his family were living in Huggin Lane, Queenhithe, an area dominated by Queenhithe Docks and riddled with alleys and wharves. His father was a described as a porter, possibly working in the dockyards. Willie already had two brothers and four sisters. His two brothers, who were 12 and 14 at the time of the census, were described as unoccupied, suggesting they were expected to be working by then; his sisters ranged in age from nine to six months. Ten years later, the family had moved just over half a mile away, to no. 17 Old Bailey. His father had changed occupations and was described as a bottle dealer, which does not sound like a step up. His elder brothers had probably moved away from home by now, but three of his sisters were still there. Margaret (16) was working as a domestic servant, while Maria (14) was an umbrella maker. The youngest daughter, Anne, was described as a scholar.  No.17 Old Bailey contained 11 families, totalling at least 43 individuals, probably packed into courts leading off the main road.
From this background, it is not surprising that Willie contracted a tubercular disease. His first stay at The Hospital for Sick Children lasted five months, at the end of which he was discharged relieved and sent to Highgate. He stayed at Cromwell House for nine months before being sent to the convalescent home at Margate, presumably to benefit from sea air, and possibly sea bathing which was believed to be very beneficial for tubercular patients.
Willie was at Margate for five months and then returned to Great Ormond Street in September 1871. By this time his family had moved again, this time back towards the river to Playhouse Yard, close to Puddle Dock and the site where Blackfriars Station would be opened in 1886. After another nine months in the main Hospital he was packed off again, this time to 'summer' in Brighton. His stay there was described as only temporary, but how long he actually stayed, and whether he was able to go home, is unclear. What is known is that poor Willie was readmitted to Great Ormond Street a year later, on 12 July 1873. This time his stay at the big hospital was brief, a matter of weeks, and then he was sent to yet another convalescent home, this time to Kenley in leafy Surrey. But this was still not the end for Willie's life as a hospital inhabitant. He came back to the main Hospital in October 1873, suffering from purpura, a condition characterised by haemorrhages under the skin, which can be associated with tubercular disease. He stayed at the Hospital for a further six months before being sent back to Kenley, relieved.
Willie's final appearance at Great Ormond Street occurred on 7 July 1874, when he was admitted for seven days for examination prior to being sent to another seaside resort. This time he was sent to the Royal Alexandra Children's Hospital and Home at Rhyl, which was being run by one of Great Ormond Street's ex-matrons, Edith Vizard. On his final discharge Willie's condition was described (probably very optimistically) as cured.
What happened to Willie after this is not known. Searches for him in subsequent censuses do not reveal any conclusive identification, and his medical history does lead to the likely conclusion that poor Willie probably did not survive to adulthood. He spent the best part of four years doing the rounds of hospital and convalescent homes, but the picture at beginning of this article does not reflect a miserable and defeated little boy, instead Willie smiles bravely out from under his huge heap of blankets.