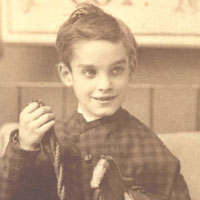 Sydney Jones (also known as Sidney): patient from 13 June 1873 to 4 September 1873
Sydney Jones was eight years old when he was admitted to the Hospital for Sick Children on 13 June 1873, under the recommendation of Miss Wood (probably the woman who became matron several years later). He had disease of the right knee. As with so many other children with this diagnosis, he was probably suffering from a tubercular infection of his knee joint. The disease was obviously well advanced, as the doctors chose to amputate his leg at thigh level. This catastrophic surgery must have been a terrifying ordeal for Sydney, despite the availability of anaesthetics (most likely chloroform). However, the operation was successful and he was pronounced fully recovered and discharged to convalesce at Highgate on 4 September the same year. Originally admitted to the chronic and surgical ward at Highgate, he made good progress and was moved after a week to the convalescent ward. According to his Cromwell House record, Sydney had experienced measles and chicken pox as a child, but not whooping cough, scarlet fever or diphtheria.  He stayed at Cromwell House for just three weeks, being finally discharged, well, on 2 October.
Sydney (or Sidney as he was referred to in the census returns) was the son of a boot and shoe manufacturer who lived in Market Place, Upper Holloway, London. He was one of five children at the time of his admission. In 1881, having survived his earlier ordeal, Sydney was still living with his parents in Upper Holloway, and working as a clerk to a builder. It seems that some time after this he must have changed career and taken an apprenticeship, as by 1891 he is described as a cabinet maker. Another significant change in Sydney's life was the arrival of a wife (Florence) and a son, named for his father and born in c1889.  In the 1891 census this little family was living in Fortess Road in Kentish Town, but by 1901 they had upped sticks and moved to Chester, and Sydney had become a pianoforte maker. Is Sydney another of the Hospital's success stories, saving him from possible death and enabling him to grow up to become a skilled craftsman?