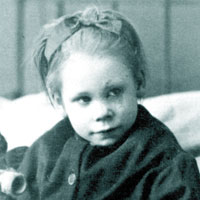 Minnie Ashman: patient from 9 June 1873 to 29 October 1873
Minnie Ashman was seven years old when she was admitted to the Hospital for Sick Children on 9 June 1873. She was suffering from empyema, a condition characterised by an accumulation of pus and fluid in one of the major body cavities. Although in Minnie's case, the records do not identify the site of her empyema, it would most likely be in the chest cavity in the space around her lungs. Empyema is often a sign of respiratory infection (such as pneumonia), which was a common occurrence among the poor, as result of inadequate and overcrowded housing. Minnie stayed in Great Ormond Street for four and half months, before being sent, on 29 October, to the convalescent home at St Leonard's to regain her strength. Her doctor, Dr Cheadle, must have been pleased with her progress as she was pronounced cured.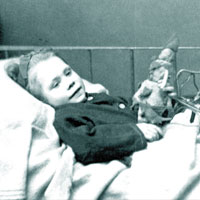 On her admission, Minnie's address was given as 7 Kings Road, Wood Green, although her family moved regularly, as did many of London's inhabitants in the 19th century. However, her family has been found in the censuses, with a reasonable level of certainty. It seems she was one of the youngest of a large family of at least nine children. Her father, a painter and glazier, and his wife, were both born and bred in the city (he in Fleet Street and she in Clerkenwell), and the family moved around London from census to census: sometimes living in Islington, sometimes in Westminster. In 1881, the last time Minnie was found in the census, she was still living at home (age 14), with three of her sisters. None were employed. What became of Minnie after 1881 is unknown.