The Battle for Control of Cromwell House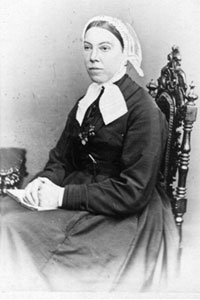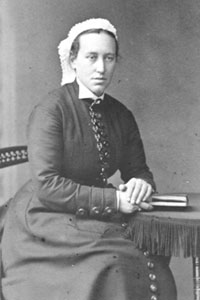 When Cromwell House first opened its doors, Isabella Babb was the Lady Superintendent at the Great Ormond Hospital. She recommended that the Great Ormond Street Housekeeper, Miss Hall, should be appointed to the post of Matron at the new convalescent home. As the majority of children there were not expected to require intensive medical or nursing care, the most important skills in a matron were probably those of management. Sarah Hall was duly appointed in June 1869. The following May, however, Dr West argued that there was indeed a need for an experienced nurse in the Home and recommended that a Superintendent of Nurses should be appointed immediately. He proposed that Catherine Wood (who had six years experience at Great Ormond Street and the House of Relief in Queens Square) would be admirably qualified for the job.
Thus was created a dichotomy of rule at Cromwell House, which dogged its management for several years, with the Matron/Housekeeper lined up against the Superintendent of Nurses. Periodic reviews of the responsibilities of these two women indicate the tensions which existed between them. In April 1871 the Management Committee was forced to spell out this relationship in simple terms: that Miss Wood held the same position relative to Miss Hall that the ward sisters at Great Ormond Street held relative to the Lady Superintendent, Miss Vizard. In other words, although she had full responsibility for the running of the sick wards, Miss Wood ultimately had to answer to Miss Hall.
The wrangling continued, and in early 1872 Miss Hall resigned, perhaps worn down by the situation. However, she returned almost immediately, and for several years everything seemed to run smoothly. Then it was Miss Wood's turn to resign, in January 1876 – giving a very generous six months notice. Unable to find a replacement despite asking for help from some of the most influential nursing figures of the time, the Management Committee were informed by an unnamed source (who was possibly Dr West) that Miss Wood might be persuaded to stay. However, there were some conditions: firstly that she be made Lady Superintendent of Cromwell House, and secondly that she be allowed to engage a lady of her choice as her assistant.  The Committee agreed to everything.
Miss Hall became surplus to requirements in this new vision for the management of Cromwell House, and having failed to do the decent thing and resign, she was given formal notice to quit by the Management Committee. (It is interesting to note that that the Committee were not unanimous in this decision.) Miss Wood, on the other hand, continued in her new role until the end of 1868, when she was appointed Lady Superintendent for Great Ormond Street.