Catherine Jane Wood (c1841-1930)
Catherine Jane Wood is an unsung hero in the history of nursing at Great Ormond Street and in the field of paediatric nursing as a whole. She was born in 1841 into a prosperous family who lived in Doughty Street, London, a short walk from the hospital where she spent much of her working life. Her father was a mill proprietor and land owner. In the late 1850s she began attending the Hospital, as a Lady Visitor, reading to the young patients and undertaking menial tasks which the regular nurses were to busy to do. In 1863, following a developing trend within the Hospital to appoint senior nursing staff from the body of female middle-class visitors, she was appointed Ward Superintendent. She acquired her grounding in sick children's nursing under the tutelage of Dr Charles West, a leading proponent of children's medicine and founder of the Hospital. In 1868, she left Great Ormond Street to establish the Hospital for Hip Joint Disease (later to become the Alexandra Hospital for Children with Hip Disease) with Miss Spencer Percival, another sister at the children's hospital. Two years later, Dr West tempted her back, to become Superintendent of Wards at Cromwell House, the Hospital's new convalescent home in Highgate. The two had built up a relationship of mutual respect, and Catherine Wood always credited Dr West as her inspiration and fount of understanding of the intricacies of nursing sick children.
Her time in this post was marred by a long and acrimonious power struggle, between herself (as Superintendent of the chronic wards) and Sarah Hall, the Housekeeper of the Cromwell House, which was reminiscent of that between the hospital's matron and her deputy, Mrs Rice and Mrs Cross, in the 1850s.  As before a lack of clear definition of the responsibilities of the two roles lay at the heart of the problem. In 1876, Catherine Wood demonstrated the strength and determination of her character and outmanoeuvred her rival, to be appointed Lady Superintendent of the convalescent home. By 1878, however, the nursing department of the mother hospital was thrown into turmoil, on the abrupt resignation of its Lady Superintendent, and Catherine Wood was invited to return to Great Ormond Street to fill the vacancy. She held the post for ten years. In the 25 years she was associated with the Hospital, Catherine Wood only accepted payment for a brief period of time, preferring to work on a voluntary basis. She resigned in 1888, to take care of her widowed sister-in-law and large family.
Several historians have credited Catherine Wood with the idea that children's nurses needed special training, and of being the first to introduce a training scheme which recognised that. She, however, laid all the credit at the door of Dr West, referring to it in one of her many articles on the subject as the system 'organised by Dr Charles West … [and which] has existed since 1852', when the Hospital first opened. However, there is no doubt that she thought carefully about the ideas first promulgated by West, and discussed them at length in a series of articles published in The Nursing Record in 1888, not long after she had left the Hospital.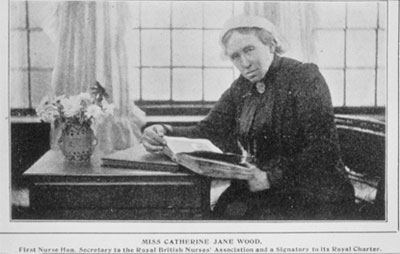 Despite having worked at only one institution (apart from the short time at the Hip Hospital) Catherine Wood played an important in role in the development of nursing beyond the walls of Great Ormond Street. She was a founder member of the British Nurses' Association (with Mrs Bedford Fenwick), and campaigned vigorously around the country for the registration of nurses and improved nurse education, an activity she threw herself into after her resignation from Great Ormond Street. She was a prolific writer on nursing, publishing many articles in the nursing press. Her most famous works were two handbooks, 'The Handbook on Nursing' and 'The Handbook for Nursing of Sick Children', published in 1878 and 1889, respectively.
Throughout the rest of her life, Catherine Wood continued to campaign on numerous issues connected to all branches of nursing, but children's nursing and the care of nurses were her real passions. Her work for nurses was as tireless as her work for children. Her longest-held post was that of Secretary General of the Guild of St Barnabas, which she held from the late 1870s to 1922. Catherine Wood, like her colleague Louisa Twining, was a deeply religious woman, and her long relationship with the Guild is testimony to that. In an article for Nursing Notes, she wrote,'religion simplifies our life in the perplexing arena of the hospital, where there are so many to please and where the contending forces of good and evil are so strong.'
She summed up her life, in an interview for The Nursing Record: 'Ever since I left the Hospital for Sick Children in Great Ormond Street … I made my mind up then that I would devote my life to the care of sick children or of Nurses.' During her time at Great Ormond Street she instituted a pensions and saving scheme for her nurses, and after leaving she maintained her close connection with nurses' welfare by establishing a hostel for private nurses in London, who needed a base in between assignments.
Sources: Decennial Census, 1851; The Nursing Record 17 May 1888 p79; GOS/5/2/30 Lady Superintendent's Reports 28 Nov 1864; GOS/1/2/11 Committee of Management (CM) Minutes 29 June 1870; GOS/1/2/16 CM 21 November 1878; GOS/1/2/17 CM 25 January 1888; GOS/11/3 Catherine J Wood 'Letter of Resignation' 5 January 1888; The Hospital 3 December 1887 p168; Catherine Jane Wood A Handbook of Nursing for the Home and the Hospital: with a glossary of the most common medical terms (London: Cassell & Co, 1878); Catherine Jane Wood A Handbook for the Nursing of Sick Children: with a few hints on their management (London: Cassell & Co, 1889); 'Miss CJ Wood at the Nurses' Hostel' The Nursing Record 4 August 1892 p636; 'Miss Wood and the Guild of St Barnabas'  GOS/11/3; Catherine J Wood 'Religious Aspects of Nursing' Nursing Notes 1 July 1894 p85