The Milk Department
It is a commonplace today that, with regard to feeding babies, 'breast is best'. In the modern-day hospital, the nurses assist mothers to breastfeed between 40 and 48 per cent of babies under their care.  This still means, however, that, for just over half the infants under the Hospital's care, non-human milk is the desirable, or necessary, alternative. The Milk Room at Great Ormond Street supplies 600 bottles of milk a day to the various wards and departments. In addition to cows' milk, proprietary feeds are available for patients who need different formulae. These patients might have diseases of the gut or kidneys, or their treatment might demand that nutritional support be given.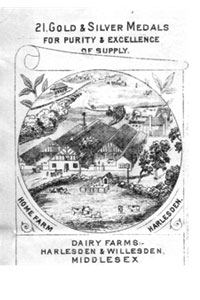 The priority given to safe and appropriate milk products is nothing new, and was a concern of the hospital even before it was opened. On 2nd February 1852, 12 days before the Hospital for Sick Children at Great Ormond Street was opened officially, the Godmanchester Milk Company was appointed official supplier to the new institution. Many of the in- patients before 1914 would have only known skimmed condensed milk, sold door-to-door in poor areas, which had been watered down, thickened with starch, and highly sugared. It had little nutritional value, and was a major contributor to infantile digestive problems, early dental caries, and tuberculosis.
By 1868, consumption of milk at the Hospital had risen to 250 quarts (62.5gallons) a week, at a cost of £6.10s (£6.50), and the house committee members were keen to source a cheaper supplier. This may not seem a lot of money for 50 in-patients, but this was at a time when the average weekly wage in London was less than one pound.
The hot summers of the early 1900s, and the subsequent rise in infant mortality, were the catalyst for official concerns about safe milk to be expressed. A conference on the subject of safe and wholesome milk, attended by representatives from nine children's hospitals, was held at Great Ormond Street in 1909, and decreed, "The Milk shall be pure, genuine, and with all its cream as yielded by the Cow, and absolutely free from any and every kind of adulteration, including preservatives."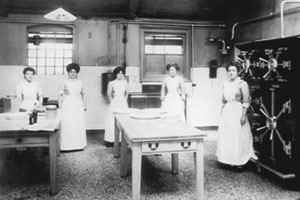 The hospitals stated that they wanted the local health authorities to inspect the farms, that they should do so every quarter, and required a quarterly vet's certificate stating that the cows were healthy. They wanted the farms to strain, refrigerate and seal the milk in containers at the farm, and, curiously, forbad the dairies from pasteurising their supplies. It is possible that these recommendations were influenced by the success of the milk depot, set up by Battersea Council, for expectant mothers and babies under two years old. It had resulted in higher survival rates for infants from poor families in that area.
Milk had been supplied by farms and dairies in Willesden for many years, but, by 1924, cows reared in what was recognisably countryside were preferred, and a farmer near Banbury was selected to supply the hospital with the 54 gallons (216 quarts, or 532 pints) it then needed each week. Mr Cooke, the farmer, was enterprising – he also supplied the hospital with pork, beef and mutton, as well as eggs – and guaranteed twice-daily milk supplies during rail strikes in the 1920s. A milk kitchen was installed in the Southwood Building in 1937, and this was regularly refurbished to cope with increasingly sophisticated milk formulae. By 1960, when a new milk kitchen and laboratory was installed, the 500 feeds a day that were prepared at the hospital included 100 made from formulae from companies such as Cow and Gate.