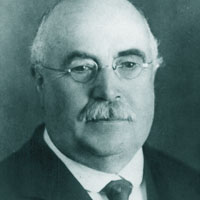 Walter Stacy Colman (1864-1934)
Dr Colman was born into an East-Anglian family, and educated at Bishop Stortford before studying medicine at Peterborough Infirmary, Edinburgh University and University College London. His early career included appointments at the West London Hospital, the National Hospital, the North West London Hospital, and Great Ormond Street. Like Dr. Batten, his later work concentrated on the National Hospital in Queen Square, and at Great Ormond Street. In 1898, St Thomas's Hospital appointed him assistant physician, with responsibility for the children's department. He never enjoyed good health, but, in spite of that, he served for three years in France with the 2nd London General Hospital during the First World War. He was on the staff of The Lancet, and retired from full-time medicine through ill-health in 1918. From 1922 until 1931 he served on the Surrey County Council, campaigning energetically for the improvement of the county's mental hospitals.
Dr. Poynton recalled him;
Dr. Colman. A very clever physician, also on the staff of Queen Square Hospital for Nervous diseases. Dark, rather short, with quick, dark eyes. He had a strong sense of humour with a rather bitter undercurrent, which made some afraid of him. He had suffered from a rather bad attack of scarlet fever when in hospital followed by renal disease. His was an unlucky life, for just at his prime the Great War broke out, and he went first to the 3rd London Military Hospital at Wandsworth, then bravely but unwisely went to France, to return a broken man in nerve and general health. Though he lived for some time in retirement, he never was able to work again, and thus a man of clear ability was lost to the hospital before he could attain the position he desired.