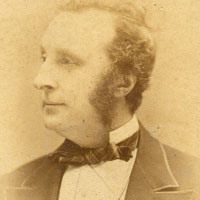 Timothy Holmes (1825–1907)
Timothy Holmes was born on 9 May 1825 in Islington, London, the son of a warehouseman. He was educated at Merchant Taylors' School in London and gained a scholarship to Pembroke College, Cambridge, where he gained his BA in 1847. Holmes then returned to London to study medicine at St George's Hospital. In 1853 he was became a Fellow of the Royal College of Surgeons, and served as house surgeon and surgical registrar at St George's Hospital. His career was dedicated to the hospital, rising through the ranks to be made full surgeon in 1867. In 1887, owing to a time limit on service, he retired and was appointed consulting surgeon to the hospital.  Indicative in his interest in the hospital, he accepted the post of honorary treasurer in 1894 and was appointed a vice-president on his retirement from active work in 1904.
In addition to his work at St George's, Holmes was elected assistant surgeon to the Hospital for Sick Children in Great Ormond Street in 1859, and he was full surgeon there from 1861 to 1868. He published
A Treatise on the Surgical Treatment of the Diseases of Infancy and Childhood
(1868), drawn from this experience. For twenty years he was also chief surgeon to the Metropolitan Police.
Outside of his hospital work, Holmes also played an active part in the development of his profession: he was elected Hunterian professor of surgery and pathology at the Royal College of Surgeons in 1872, becoming a member of the court of examiners from 1873 to 1883; held all major offices, including President, of the Royal Medical and Chirurgical Society of London (later merged in the Royal Society of Medicine); and played important roles in both the Clinical Society and the Pathological Society of London. He married Sarah Brooksbank, who predeceased him; they had no children.
In between his work at both hospitals and the various societies, Holmes found time to publish several works on surgery, edit seven editions of Gray's Anatomy and write a biography of Benjamin Brodie (1898). He was also responsible (with Dr John S Bristowe) for a major work commissioned by the Privy Council on the state of hospitals and their administration, published in 1863.