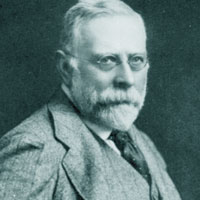 Sir Thomas Barlow (1845-1945)
Great Ormond Street Hospital has had many members of staff who have served for many years, but only one (so far) can claim to have been on the roll for seventy years.
Thomas Barlow was born in 1845, the eldest of seven children of James and Alice Barlow, mill owners, of Edgworth, near Bolton in Lancashire. His scientific interests led him to study the extraordinary combination of medicine, geology and palaeontology at University College London. He qualified in 1871, and became house physician to Sir William Jenner. From the Queen's physician (and Great Ormond Street luminary), he learnt the importance of intense accuracy in clinical observation, and attention to every detail
He came to Great Ormond Street as Registrar in 1875, was appointed assistant physician in 1876, and physician in 1885.  As with all physicians at the time, he also held posts at UCH, the London, the Royal Free, and the London Fever Hospital.  1880 was a significant year in his life, as he not only attained his FRCS, but married Sister Ada Dalmahoy of Great Ormond Street, thus maintaining the tradition of in-house matrimony. His new wife transformed the serious, slightly shambolic figure into a successful, organized, medical practitioner and a very happy father of five children. She encouraged him in his interests in art, archaeology and literature, and shared his deep Christian faith.
He had a kindly manner with the patients which was noted by Robert Bridges, with whom he worked at Great Ormond Street,
"Of all the doctors I ever knew he was the one who had most intimate personal sympathy with his patients…Barlow's fellow feeling was inexhaustible and unwearied."
At the hospital, his meticulous approach to post mortems advanced the standard of diagnosis among his colleagues considerably, although hospital finances were such that he used to say that it was a good idea to get to the post mortem room early before the day's supply of candles ran out. He contributed several important articles to medical journals, on tubercular meningitis and rheumatic fever, but it was for his definitive identification of infantile scurvy that he achieved international fame.  His work stemmed from a growing incidence of rickets in the second half of the century, coinciding with (and, ultimately, seen to be largely the responsibility of) the growing dominance of proprietary baby foods and the reluctance of middle class mothers to prolong breastfeeding. Cases which also presented pseudo-scorbutic symptoms were typically described as 'acute rickets', but Barlow showed conclusively that rickets and infantile scurvy were separate conditions,  that could, however, appear at the same time. Barlow's disease ( as infantile scurvey became known) is caused by malnutrition combined with a lack of vitamin C  (ascorbic acid). It is characterized by gingival lesions, haemorrhage, arthralgia, loss of appetite, listlessness, and other symptoms similar to those seen in adult scurvy. It is rare in breast-fed children, and usually occurs when the infant is between 6 and 12 months of age.
Thomas Barlow also contributed to the study of meningitis in children, in association with fellow Great Ormond Street physicians Samuel Gee and David Lees, and also on paediatric rheumatic conditions. With his fame came appointments and honours. He became Physician Extraordinary to Queen Victoria, being at her bedside during her last illness, and present at her death, and fulfilled the same position for Edward VII and George V. In 1901 he was made a baronet, and he was elected a Fellow of the Royal Society. The following year he was elected President of the Royal College of Physicians, and was created a Knight Commander of the Royal Victorian Order. During the Great War (in which one of his sons died), he travelled the country, lecturing on matters of public and sexual health to troops, and was active in the Royal Medical Benevolent Fund.
In 1933, he astonished delegates to the International Paediatrics Congress, who had imagined that Barlow, of Barlow's disease, must have long since passed away. His colleague John Poynton recalled the scene;
"A notable figure was Sir Thomas Barlow in his 89th year, as eager and keen as if he were still a physician at the hospital!…   Dr. Still was the President of the Congress, and when Sir Thomas Barlow rose at the official banquet to propose his health, the whole congress was deeply moved by his gracious and patriarchal face, his great fame as a children's doctor, and his speech, so clear, so honest, and the more delightful for its touch of the Lancashire dialect. For nearly 5 minutes he was cheered to the echo—a wonderful scene. "
After 'taking down the brass plate" at the age of seventy-five, he spent his retirement at his farm in Buckinghamshire, with summers spent motoring around Europe, visiting old friends and beautiful historic sites. Although remembered today for his pioneering work on infantile scurvy, contemporaries recalled his human qualities as being exceptional.  Dr L. P. Hartley wrote of him,
"Barlow had a sort of intuitive flair for diagnosis. He had more than that, he had the knack of saying always the kind thing. He taught me the merits of Humanism applied to Medicine; and he did it not by any deliberately spoken word but by just being himself."
Sir Thomas retired from Great Ormond Street in 1899, but was still officially associated with the hospital when he died, just short of his century, in 1945.