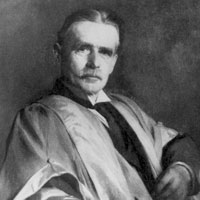 Sir George Frederic Still
Sir (George) Frederic Still was the first physician in Britain to truly merit the title of paediatrician.
The second of twelve children, Frederic Still won scholarships to the Merchant Taylor's School in London and Gonville and Caius College Cambridge. After gaining a first class degree, he studied medicine at Guy's Hospital under James Goodhart, who was interested in children's medicine. Goodhart inspired his pupil to follow him, and Frederic Still became clinical assistant at the Hospital for Sick Children at Great Ormond Street in 1894. His salary was only £20 a year, and he had no private income, so Still's early days at the hospital were spent in considerable poverty.
From the first, he researched childhood diseases, and when he was only twenty-eight, he wrote a thesis identifying a chronic rheumatoid arthritis peculiar to children, which is now know as Still's disease. He also played a major part in identifying the organism responsible for posterior basic meningitis. He was made a permanent member of the staff at Great Ormond Street in 1899, at the same time being appointed Professor of Diseases of Children at King's College Hospital, the first person in Britain to bear that title.
A confirmed bachelor devoted to his mother, Frederic Still gave his life to paediatrics. He wrote prolifically on the diseases of childhood, and was secretary to the Children's Clinical Club; an informal gathering of paediatricians that grew into the British Paediatric Association, of which he was the first president. He was shy and awkward with adults, but his love of children made him an instant hit with them, and he built up a thriving private practice. This made him financially secure, and he frequently waived his fees for those patients whose families could not afford to pay. His devotion to the welfare of children made him a natural choice to work for Barnardo's and other children's organisations, and he was the president for twenty years of the National Association for the Prevention of Infant Mortality. His skills were recognised in 1936 when he was made physician-in-ordinary to the Duke and Duchess of York (later King George VI and Queen Elizabeth) and he was appointed a Knight of the Royal Victorian Order in recognition of his services to the royal family and to child health.
Still was a cultured man, enjoying the classics, composing and publishing a book of poetry in the year of his death. In later life, he amazed his colleagues by taking up fly-fishing, but he remained a reserved man who dedicated his life to improving the life chances of sick children, and especially to the patients at Great Ormond Street.