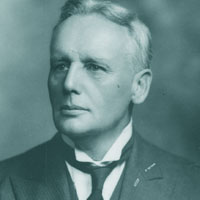 Dr Frederic John Poynton (1869-1943)
This distinguished looking gentleman was one of the many long-serving clinicians to work at Great Ormond Street Hospital. His name is Frederic Poynton, although he always preferred to use his middle name, John. He was born in June 1869, the son of a clergyman of Bath, and was educated at Marlborough School before studying medicine at University College, Bristol and St Mary's Hospital. He qualified in 1893, and soon established his interest in children's medicine, being appointed assistant physician at Great Ormond Street in 1900, and assistant physician, in charge of the children's wards, at University College Hospital, in 1903. Although UCH appointed him a full physician in 1910, Great Ormond Street kept him waiting for that accolade until 1919. During the Great War, he was a captain in the Royal Army Medical Corps.
Dr Poynton was the Bradshaw lecturer at the Royal College of Physicians in 1924, Lettsomian lecturer at the Medical Society of London in 1927, and the Long Fox Lecturer at Bristol in 1934. He reached the pinnacle of his professional career in 1931, when he was elected president of the British Paediatric Association, three years before he retired from his hospital appointments.
Poynton was deeply interested in rheumatism in children, and wrote extensively on the subject, although his publications proved controversial and he enjoyed feuds with several of his contemporaries as a consequence. He did not confine his interest in rheumatic cases to the hospital and publications; he was founder of the Heard Homes for convalescent rheumatic children in West Wickham and Lancing, for which he was awarded the Dawson Williams Memorial prize. 'His' ward at the hospital was the Annie Zunz, with which he was associated for 36 years.
His devotion to Great Ormond Street spanned his 34 years as a member of the clinical staff, and in the 1920s he tried very hard, at a time of great uncertainty in the hospital's life, to secure the site of the Foundling Hospital so that his beloved Great Ormond Street could expand. His failure was just one of the sorrows of his life, and prompted him to warn his audience at the inaugural meeting of the Association of Sick Children's Hospital Nurses in 1939,
"Should any of you become benevolent millionaires, never if you can avoid it build a hospital on its old site, the expense and wastage are enormous and most delusive." 
Indeed.
Poynton was a shy man in many ways; like many of the best paediatricians, more at home with children than with adults. His passionate advocacy of better treatment for children with rheumatic disease lasted throughout his professional life, and far into his retirement, and it was a great sorrow to him that his research specimens were destroyed by bombing in 1941. He remained cool in a crisis, a trait that came to the fore while on a train journey to Cornwall. A man tried to commit suicide in a first class lavatory by disembowelling himself. Poynton stopped the bleeding with a couple of napkins and towel, replaced the alimentary tract, and only then pulled the emergency cord to stop the train. The would-be suicide lived.  He was a good teacher, a man of strong opinions and a valiant champion of the hospital. In his address at Dr Poynton's memorial service, his contemporary Sir Robert Hutchison remarked that,
"He saw, alas, more of the shadow than of the sunshine in life for he had a greater share of the troubles, vexations and disappointments that fall on our mortal lot than most of us, though he bore them with a manly stoicism and a wry sense of humour."
His professional life was marred by feuds with those who did not accept his theories on the causes of juvenile rheumatism, and his private life was unhappy (he and his wife divorced in 1939, after years of separation), and perhaps this prompted him to take up hockey, squash and cricket seriously (playing for, and ultimately captaining Somerset County between 1891 and 1896), and becoming a pioneering motorist and amateur aviator. Music was an abiding passion, and he sang in choirs throughout his life. Cricket was one of the great loves of his life, and through which he made lifelong friendships; on one occasion drinking the legendary Ranjit Singh under the table after he and his partner scored 305 runs in a Somerset versus Sussex match. His humour was of the dry sort. On being told that a famous cardiologist, more renowned for his research than his concern over handling patients, had written a book, he asked if there was a chapter on treatment. The response was affirmative, at which he asked, "Who wrote it?" He liked good liquor, and described hell as staying in a Scotch (sic) temperance hotel in Glasgow. His daughter Emily was his constant companion and lived with him until his death, in Bath, in 1943. It is perhaps indicative of the sorrows he bore in life that, at the time of his death, John Poynton's son (also a doctor) was interned by the Japanese. He unconsciously wrote his own obituary, declaring,
"The best way to live is as a freelance and die as one, with all its tactlessness, but with all its straightness for good or evil."