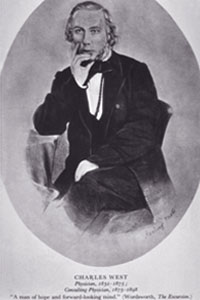 Dr Charles West (1816-1898)
Young Dr Charles West
Charles West was the founder of the Hospital for Sick Children at Great Ormond Street. He was born in London on 8 August 1816, the second son of Ebeneezer West, sometime Baptist Minister and school proprietor at Chenies and Amersham in Buckinghamshire. At the age of fifteen, Charles West was apprenticed to a local doctor who had been apothecary at St George's Hospital. In 1833 he went to St Bartholomew's Hospital (Bart's) in the City of London to begin his medical training in earnest, and, two years later, went to the University of Bonn where he won first prize for an essay on female anatomy. His European education continued with spells in Paris (where he worked for a time at the Hôpital des Enfants Malades and the Hospice des Enfants Trouvés) and Berlin, culminating in his graduation as Doctor of Medicine in 1837.
His first venture into private practice in London was not successful, so he moved to Ireland to study midwifery before returning to Bart's. His professional development continued: he was awarded the MRCP in 1842, and took up the post of physician at the Waterloo Road Dispensary for Women and Children. From this date, his work would be almost exclusively concerned with the health of women and children. He gained a second appointment at the Middlesex Hospital, but it was as the author of a series of lectures on the diseases of children, published in the Medical Gazette in 1847, and later collected into a best-selling book, that his reputation rested at this time. Although still employed at Bart's, and in charge of a department of thirteen beds, the hospital never officially acknowledged his work, and he finally resigned in 1861.
Throughout the 1840s he had been trying to interest the London medical establishment in setting up a hospital for children. His early attempts to persuade the governors of the Waterloo Road Dispensary to open a ward there for inpatients had failed, and in 1849 he began a systematic campaign to persuade every physician in the metropolis as to the necessity of an inpatient hospital dedicated to the care of sick children. He backed up his arguments with data from his wide network of contacts in Europe, and the annual mortality reports of the Registrar General. (See Dr West's Arguments in Favour of Establishing a Hospital for Sick Children.) With the help of some very influential friends and colleagues he began to make progress. Dr Henry Bence Jones lent him his house for meetings, raised funds, and gave him access to the charitable elite of the capital, including Lord Ashley.
Charles West as an older man
After a long campaign, and in the face of many doubters and critics, on 14th February 1852, the Hospital for Sick Children was opened at 49 Great Ormond Street, with Charles West as its first physician. He held this post until 1875, when he resigned, and was appointed consulting physician. His extensive library of medical works was donated to the hospital, and he continued to be a prolific and popular author. However, his relationship with the hospital had broken down by 1877, when, after a series of highly publicised disagreements with the Management Committee, he resigned his consultancy and returned to private practice. It is often the way that the force of personality required to begin a venture precludes that individual from working comfortably with other people. It is also possible that his conversion to Roman Catholicism caused difficulties with his colleagues, who worried about the potential for introducing ritualism into the Hospital. Ill health took him to Nice each winter from 1880, and he died in Paris on his return from the south of France in 1898.