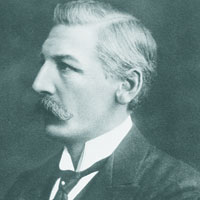 Arthur Francis Voelcker (1861-1946)
Arthur Voelcker was born in Cirencester, Gloucestershire, in 1861, the son of Augustus Voelcker, a Fellow of the Royal Society and agricultural chemist. He studied medicine at University College London, qualifying in 1884, and then studied in Berlin, Vienna and Paris, before returning to Britain to take up posts at University College Hospital and Great Ormond Street, in the latter years of the 1890s.
He was elected physician at Great Ormond Street, and later appointed as a consultant, and also held posts at the Middlesex Hospital (where he lectured on medicine), and St. Luke's Hospital. During the Great War, Dr Voelcker served in the Royal Army Medical Corps, attaining the rank of major. He examined in medicine for several universities, as well as for the Society of Apothecaries. During the battles for nurse registration in the years immediately preceding the First World War, Arthur Voelcker headed the children's hospitals' committee that safeguarded the interests of sick children's nurses. Considered rather dull by his students, Dr Voelcker was much loved by young patients and their mothers, for his patience and kindness. A man of action, Voelcker was a cross-country runner, enjoyed fishing and shooting and gardening, but was also known for his love of poetry and his collection of antiquarian medical books. He retired to Bude in Cornwall, where he died.