The Children and the 'Treacly Pot': seven cases of belladonna poisoning
During the afternoon and early evening of 20 July 1900 seven children were brought into the Royal Hospital for Sick Children, Glasgow suffering from similar symptoms. They had been taken ill at various times and in various places during the day. Their symptoms, which included jerky movements of the arms and legs, a degree of delirium and widely dilated pupils, suggested some form of poisoning. George Kelly, of Lyon Street, and Michael Donaghue, of Keppochhill Road, were the first to be admitted. After interrogating these two, to discover the potential cause of their illness, it transpired that in their wanderings during that long summer day, they had 'found' a pot near a stables, which contained a substance resembling treacle. They couldn't resist sampling it. The other children, admitted subsequently, had been part of this group of friends.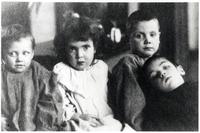 Further investigation, which included an interview with a local vet, Mr Mitchell, discovered that the pot contained an 'Electuary for Sore Throat', and that it was used by stable owner Mr Lynch to treat his horses. It had a sweet and aromatic aroma, and presumably the children thought it was treacle. Indeed the medicine was based in treacle, but also contained extract of belladonna. The widely dilated pupils confirmed that the children were suffering from belladonna poisoning. (The substance had been popular in earlier times as a cosmetic, used by women to make their eyes appear larger, hence the name, bella donna - Italian for beautiful lady.)
Looking at the records, it seems likely this was a group of four school friends (William Waugh, Malcolm McTaggart, George Kelly and Michael Donaghue), all aged 10 and 11. Five of the children lived in neighbouring streets (as shaded areas of the map, from 1893, indicate) while the other two (the Donaghue brothers) lived about a mile away. At a loose end during the long summer holiday, they were roaming their neighbourhood looking for adventure. Tagging along with them were Malcolm's little sister Jemima (age 6), Michael's brother Hugh (also 6) and the youngest of the crew, James Devlin (age 4). The four older boys had probably been given the job of looking after their younger siblings, relieving their mothers of that burden at least.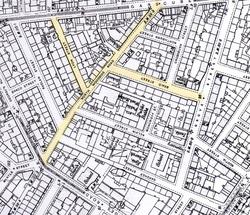 Kelly and McTaggart were neighbours, living at 50 and 44 Lyon Street (in the Registration District of Milton). In 1901, this street of 58 residential buildings
was home to over 1600 people (an average occupancy of 28 residents per building). Although there were some single family houses, many residents would have been crammed into the huge tenements for which Glasgow was famous. George Kelly's family, for instance, shared their building with 136 other people. In 1901 Michael McTaggart's family had moved down the road to 58 Lyon Street - a building occupied by 132 people. He lived with his mother, Margaret and stepfather, Charles Hogan, a carter. His sister Lizzie McTaggart (age16), worked as confectioner, but his younger step sister, Jemima (known as Hogan in the census, but recorded as McTaggart in the hospital records) was with him when the treacly pot was discovered.
The other two ringleaders, Michael Donaghue and William Waugh, also lived in the registration district of Milton. Michael (whose name is also recorded as Donaghy) was living with his family in Keppochhill Road. He was the second youngest in a family of nine. Five of his brothers were still living at home, three working in an iron foundry. On the fateful day, Michael probably had charge of his little brother Hugh, who was dragged along on Michael's adventures with his pals, George, Malcolm and William.
It is more difficult to explain the presence of the youngest member of the gang, four-year old James Devlin. Although he lived in the same district as the others, there were no other obvious connections, and he was too young to be a school friend of Jemima or Hugh. Perhaps he was related to one of the others, put into the care of an older cousin for the summer. Certainly, he would need someone to look out for him - his mother worked in confectioner's shop and his eldest sibling was only six, herself.
Fortunately, the taste of the treacly substance, which had promised so much, turned out to be most disagreeable (despite its attractive aroma) and the children didn't eat much of it. All were discharged from the hospital after four or five days completely recovered, but a couple were more badly affected than others.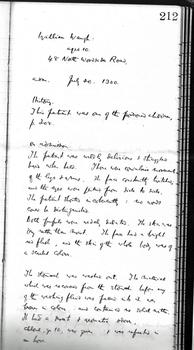 William showed the most severe symptoms.
'The patient was wildly delirious & struggled badly when held. There were convulsive movements of the legs & arms. The face constantly twitched; and the eyes jerked from side to side. The patient shouted incoherently : no words could be distinguished.
Both pupils were widely dilated … The face had a bright red flush, and the skin over the whole body was of a scarlet colour.'
William's stomach was washed out. (In George's case this was achieved by introducing a weak solution of potassium permanganate into his stomach via tube, whereas Michael was 'induced to drink large quantities of sodium bicarbonate in water'.) The material recovered was found to brown in colour with a sweet & aromatic aroma. William was given chloral (as a rectal suppository) to quieten him.
By midnight he was less violent, although completely unconscious of his surroundings. He constantly moved his arms as if at work on something and frequently brushed imaginary objects from his face. In the morning he became increasingly violent again and a further dose of choral was administered. He calmed down in the afternoon and sat in bed winking and nodding at real & imaginary persons, frequently laughing. Most of the children displayed this rather odd behaviour - talking to and laughing at imaginary beings (obviously suffering from hallucinations) - but did not seem to be disconcerted by it, as Malcolm's doctor noted: 'the delirium appeared to be of a pleasing character, for he frequently laughs'.
Little James seemed to be least affected. On admission 'he showed no symptoms' but despite this his stomach was washed out (presumably as a precaution). It was free from the brownish material found in the others. His doctor concluded that he 'had probably taken little if any of the poison'. Nevertheless, he was kept in for three days, being treated with strychnine to correct 'a slight enfeeblement of the pulse'.
The incident was reported in the Glasgow Evening Times on the day after the children were admitted. The police became involved in the case, and discovered that they had found their way into a stable on Braid Street (one of the three streets shaded on the map). It transpires there was an eighth boy involved, Thomas Henderson (10 years old), who also lived in Lyon St, at number 9. He was more seriously affected than the others and had been taken to Glasgow Royal.
All eight children were back at home within a week, and perhaps looking forward to going back to school to tell their mates about their summer adventure.
Some of the research for this article was carried out by the Glasgow and West of Scotland Family History Society, which also provided a copy of the map reproduced in the article. The HHARP team offer thanks for their support.