Royal Hospital for Sick Children, Glasgow: fund-raising and patronage
In common with all voluntary hospitals before the establishment of the NHS in 1948, the Glasgow Sick Children's Hospital depended on various sources of income to function, the main ones being annual subscriptions, donations, legacies, investments, and gifts in kind. All were detailed in the annual reports, which ran to over 100 pages in length every year, and show that income and gifts came from a wide variety of sources.
There were annual subscriptions from wealthy Glasgow business men and their families; from companies; members of the medical profession; children; schools; clubs; societies; churches; Sunday schools and bible classes; Associations, warehouses and public works. There were also donations of food, fruit, flowers, medical equipment, medicines, furniture, children's clothes, books, toys (rocking horses, dolls' houses and prams were popular); theatre tickets and other treats for staff; and clothes from readers of The People's Friend. Hospital supporters also raised money from special theatre performances, soirees, jumble sales, students charities days, Queen Alexandra Rose Day, collecting boxes and special events The hospital directors also aimed appeals at children, printing leaflets encouraging them to raise money. As a result, children paid for windows painted with nursery rhyme scenes for the wards in 1882, and Sunday schools and schools were regular contributors to the hospital funds. Even animals were recruited to the cause: in 1891, Mrs Fergus's St Bernard dog collected 16/2d.
Special appeals and fund-raising events for building purposes were organized many years before the Hospital opened. The appeal to build the Hospital received a substantial boost of £3,000 from the Grand Bazaar organized by 'ladies in Glasgow and the neighbourhood' in December 1866. But the grandest event was the Fancy Fair held in 1884, organised by the Duchess of Montrose and the Ladies Committee, which raised £15,000 and paid for the building of the Dispensary. Miss Montgomery Paterson donated a large proportion of the funds needed to build The Country Branch at Drumchapel.
The Hospital also found staunch support among leaders in Glasgow's business and industrial communities. Both the Coats and Clark families, thread manufacturers in Paisley were generous benefactors, with the trustees of the late Peter Coats giving funds to extend the Country Branch in the late 1920s. Archibald Barr, of Barr and Stroud, optical manufacturers, gave £2000 to name an operating theatre at Yorkhill -The Isabel Barr Theatre.
The Hospital was fortunate in always having royal and titled patrons, who gave their support and encouraged others to do likewise. At the pinnacle of the hierarchy were two daughters of Queen Victoria (Princess Louise, marchioness of Lorne and Princess Christian), Queen Alexandra, Queen Mary and Queen Elizabeth, the Queen Mother (wife of George VI) to give their support. There were also dukes, duchesses, earls and other titled ladies and gentlemen. The Duke and Duchess of Montrose in particular were both very active supporters, the Duke being President form 1887 until his death in 1925. It was the efforts of the Duchess and the ladies' Committee that made the Fancy Fair so successful.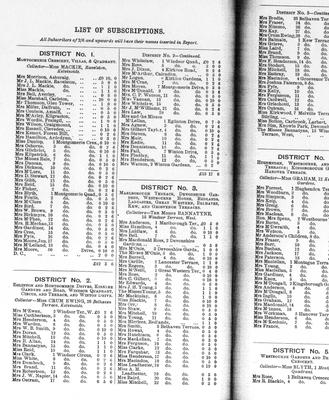 The Ladies' Committee was a very powerful force in the hospital. It organised the work of the Ladies' Auxiliary Association in collecting subscriptions and arranged for members to visit the Hospital and Country Branch. It ran the Clothing Guild; arranged to send patients to Convalescent Homes; paid for surgical appliances for needy cases and gave money to Dispensary Sisters to provide requisite nourishment in necessitous cases; arranged drives, treats, Christmas trees, and entertainments and worked with Matron to improve the living conditions of the nurses.
The Ladies Auxiliary Association had a network of lady collectors who carried out door-to-door annual collections in districts in Glasgow and surrounding areas. The long lists of streets and names of the donors were printed in the annual reports.
In addition to the Association's lady collectors, there was also an official hospital Collector for outlying and other districts not covered by the Ladies' Auxiliary Association. Mr Stavert was Collector for 31 years, from 1901-1932. In 1903 he had opened up 400 separate collecting districts, ranging from Orkney and Shetland to the extreme south of Scotland. Over 500 ladies volunteered to collect in these districts, resulting in £2,124 1s 4d being handed to the Treasurer in 1903 alone. There was also an official Collector for parts of Glasgow not covered by the Ladies or Mr Stavert. The official collectors received commission on the money they collected.
Subscribers and donors, either individuals or representatives of public works or other organisations, received certain privileges in return for their support. Annual subscribers were allowed to recommend one patient a year for every guinea subscribed, while anyone giving £50 a year was entitled to have one patient always in the Hospital. Donors of £50 or more in one sum were entitled to recommend two patients annually for every £50 subscribed. Each donor of single sums of £100 or more were entitled to name a cot and to recommend two patients annually. A £1000 donation enabled the supporter to endow a cot and recommend five patients a year, £2000 or more bought the right to name a Ward, and recommend ten patients yearly.