Sir T Kennedy Dalziel MB, CM, FFPS (1861-1924)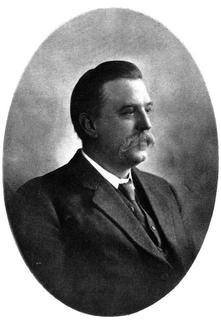 Kennedy Dalziel was born in Dumfriesshire in 1861. After his schooling in Dumfries he entered the University of Edinburgh from which he graduated MB CM in 1883. From Edinburgh he visited Berlin and Vienna, studying experimental surgery and pathology, before returning to Scotland. His first post was as house surgeon at Glasgow Royal Infirmary, working under William Macewen, and held various appointments in the city prior to becoming assistant to Hector Clare Cameron, at the Western Infirmary in 1889. During this period he became a Fellow of the Faculty of Physicians and Surgeons in 1887.
Dalziel was one of a group of young surgeons who formed the Western Medical School. They were a dynamic group who made a significant contribution to post graduate learning. In 1891 he was appointed Professor of Medical Jurisprudence at Anderson's College, adding Dean of the Medical Faculty to his remit in 1893 and Professor of Surgery in 1895. He was recognised throughout the profession as being a brilliant surgeon and continued in his post at Anderson College until 1902, when he resigned to take up the post of visiting surgeon at the Western Infirmary.
Meantime Dalziel had also developed a considerable attachment to his work as a children's surgeon. His initial appointment to the Royal Hospital for Sick Children (RHSC) was in 1888 as an extra honorary surgeon to the Dispensary. When Hector Cameron resigned in 1892, Dalziel was appointed a visiting surgeon to the RHSC. He made major contributions to the RHSC, most notably his strong advocacy of the need for a new and larger hospital for Glasgow's children. He was a "heavy weight" in the providing of the substantially increased services for children in the west of Scotland and the new hospital at Yorkhill, under his inspiration, was completed just before the outbreak of the First World War.
Before the opening of the new hospital the Board decided that its clinical staff should pledge to devote all their time to children's care - unless they received special dispensation by the Board to continue in another post, which should not interfere with their commitments to the RHSC. Dalziel was not able to conform with this requirement (like several of his colleagues). On his resignation as a visiting surgeon to the RHSC in 1914, the Board appointed him Consulting Surgeon to the Hospital, and he was subsequently persuaded to become a Director on the Board of the Children's Hospital (in 1921) ensuring that his drive for continued improvement in child care was maintained.
Dalziel was a highly respected teacher, and although he did not produce many publications he is internationally known for his early description of regional ileitis (a disease of the small intestine). A study of the condition in nine patients was presented at a British Medical Association conference in Glasgow in 1913 and published some 19 years before Crohn and his colleagues published their paper, on a disease now known as Crohn's disease - Dalziel's earlier descriptions having been long forgotten.
He was a man of wide interests and activities, and was particularly interested in farming, buying farms in Fife one of which he ran himself. It was described as a model of its kind. He also held civic positions: appointed a Justice of the Peace for the County and City of Glasgow in 1911.
In the First World War he was a Lieutenant-Colonel in the Territorial Medical Service and was appointed Director of the No.3 General Hospital based at Stobhill Hospital, Glasgow, and in 1916 was called upon by the War Office to visit hospitals in France. In recognition of his many accomplishments Dalziel was knighted in 1917 - the third RHSC surgeon to achieve this honour.
A quote from his obituary in The Lancet in 1924 indicated his standing: "Except Sir Hector Cameron, who is fortunately still with us, no surgeon in the West of Scotland has filled so great a place in the estimation of the public as Sir Kennedy Dalziel, or filled it so adequately".
Emeritus Professor Daniel G Young