James Finlayson MD, LLD, PFPS Glas., LRCS. Edin. (1840-1906)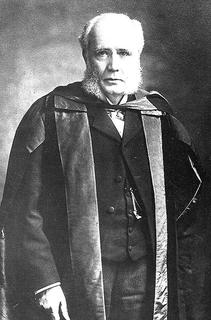 James Finlayson was born in Glasgow in 1840. After initially joining the Arts Faculty at the University of Glasgow, in 1856, he changed direction to pursue his desired career in medicine. He started classes at Anderson's College in 1862 and subsequently graduated MB with Honours from Glasgow University in 1867. In his class from the same year were three other individuals, Drs Hector Cameron, Joseph Coats and Thomas Barr, who were all appointed to the staff of the Glasgow Sick Children's Hospital in 1882. He obtained his Licentiate in Surgery from the Royal College of Surgeons of Edinburgh in 1869 and two years later his MD from Glasgow University. He was elected Fellow of the Faculty of Physicians and Surgeons of Glasgow in 1871.
Finlayson's first professional post was house physician to the Manchester Children's Hospital. In 1871 he moved back to Glasgow, acting as assistant to Sir William Gairdner at the Glasgow Royal Infirmary to 1874, and from 1875 was appointed Physician to the Glasgow Western Infirmary. He joined the staff at the Glasgow Royal Hospital for Sick Children on its opening in 1883, a position he held until retirement in 1898, when he was elected Consulting Physician
Within five years of the hospital opening there was such pressure on the surgical ward that the Board decided that surgical cases could be admitted to vacant beds on the medical wards, and stated in the Annual Report that the medical staff supported this move. Dr Finlayson protested this decision in no uncertain terms. He wrote to the Board stating that while it was perfectly possible for surgical paediatric cases to be treated in adult wards (surgical cases among adults and children being so similar in their requirements) medical paediatric cases exhibited such great differences as to mandate specialist treatment:
'…I found myself on my return to town without ward or patient in the Hospital, a condition which you stated on behalf of the Directors was merely temporary. My own opinion is that the Directors made a grave blunder in shutting out medical patients from my ward at the beginning of winter when medical cases are most likely to apply. After many years of agitation a Children's Hospital has been started in Glasgow to supply accommodation for cases not otherwise provided for by General Hospitals. We now find two thirds of your accommodation taken up by children with surgical ailments, which, in no important sense differ from those of the children under treatment by your surgeons in their female wards in the Western and Royal Infirmaries respectively, whereas the practice in the medical wards of the Children's Hospital is really and essentially different from that of the physicians in the general hospitals'.
By 1898 Dr Finlayson found it was necessary to resign from his post at the Royal Hospital for Sick Children because of the volume of work. The Board appointed him a Consulting Physician, a position he held until his sudden death in 1906 when he was still an active teacher and administrator.
Finlayson published widely. His Clinical Manual for the Study of Medical Cases went through three editions (1878, 1886, and 1891) in the United Kingdom and two, under the title of Clinical Diagnosis, in the United States (1878 and 1886). He was Honorary Librarian of the Faculty of Physicians and Surgeons from 1876-1900 and President from 1900 to 1903. In addition to his large list of medical articles he exhibited a wider interest in history of medicine. He wrote An Account of the Life and Works of Maister Peter Lowe (1889), the founder of the Faculty of Physicians and Surgeons, Glasgow, and An Account of the Life and Works of Dr Robert Watt (1897), author of Bibliotheca Britannia. His outstanding contributions to medical science were recognised by Glasgow University and in 1899 he was awarded the LLD.
Emeritus Professor Daniel G Young