Sir Hector Clare Cameron (1843-1928) KT, CBE, MD, LLD (St Andrews; Glasgow), PRFPS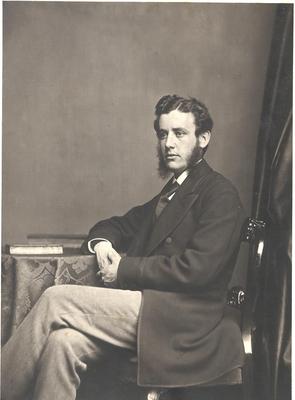 Hector Cameron was born in Demerara (now Guyana) the second son of a sugar planter, Donald Cameron. He was educated at Madras College, St Andrews, Scotland; and then went on to the University where he studied Arts. He moved to Edinburgh to begin his medical education, but undertook the majority of his medical studies at Glasgow, where he gained his MB/CM in 1866 and his MD in 1888.
In 1868, Cameron was appointed house surgeon and then assistant to Joseph Lister at Glasgow Royal Infirmary.This was the period when Lister's work on aseptic techniques was beginning to make great changes to surgical practice. Cameron was firmly convinced of the value of Lister's approach and although others in Glasgow and in Britain generally were slow to accept the new practice, it was widely received in Europe.
By 1873 Cameron was appointed as visiting surgeon at the Royal Infirmary and he continued in that post until 1881 when he moved across town to become a "chief" (visiting surgeon) in the Western Infirmary.
Hector Cameron's influence spread from his early accomplishments in the Western infirmary. On the retirement of Professor George Buchanan in 1900 he was appointed to the Chair in Clinical Surgery at Glasgow University, a post he held until 1910. He held other University posts including: Dean of the Faculties, member of the Court and member of the Senate, and distinguished himself in these positions. His work received formal recognition, most notably when he was knighted by Queen Victoria in 1900. The Universities of Glasgow and St Andrews both conferred honorary LLD degrees on Cameron and he received the CBE in 1920.
His surgical prowess was not in dispute and his character was such that he was widely in demand. Cameron held the post of President of the Faculty of Physicians and Surgeons of Glasgow from 1897 to 1900 - and for many years he was the Faculty's representative on the General Medical Council and was for years the Vice President of that body. After his death in 1928, the President of the General Medical Council (Sir Donald MacAllister) wrote a glowing report of the man and of his abilities, which was published in the British Medical Journal (1 December 1928 p1015-17) as part of an obituary.
!n 1882 Hector Cameron was one of the two surgeons appointed to the wards in the new Children's Hospital (the other being William Macewen). He retired from the Hospital 10 years later but the Board on accepting his resignation from clinical duties ask him to be the Vice-Chairman of the Board, a position he held until his terminal illness in 1928.
Cameron also held several civic positions, including Justice of the Peace for the County and City of Glasgow (from 1911) and Red Cross Commissioner for the West of Scotland during the First World War when he was charged with the supervision of auxiliary hospitals with almost 2000 beds.
Emeritus Professor Daniel G Young